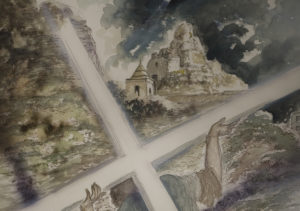 La serie di Tavole che compongono questa Collezione è stata realizzata su commissione e su specifiche richieste, la particolarità forse più evidente è l'ambientazione di ogni Tavola in uno scorcio di visuale della Città di Matera, in Basilicata, Capitale Europea della Cultura per il 2019.

Le Tavole sono state realizzate a tecnica mista su carta di puro cotone, usando dal lapis, all'acquerello, alla foglia d'oro fino all'aerografo, per creare, in un tema classico legato alla Fede, una visione contemporanea che include l'aspetto culturale accanto a quello strettamente artistico.
Il mio ringraziamento per la committenza che ha voluto darmi questa splendida opportunità.
The series of Tables that make up this Collection was made on commission and on specific requests, the most evident peculiarity is the setting of each Table in a glimpse of the view of the City of Matera, in Basilicata, European Capital of Culture for 2019 .
The Tables were made in mixed media on pure cotton paper, using from the pencil, watercolor, gold leaf to the airbrush, to create, in a classic theme linked to the Faith, a contemporary vision that includes the cultural aspect next to the strictly artistic one.
My gratitude for the client who wanted to give me this wonderful opportunity.